Around 2011, he developed a fascination for stock markets especially small cap multibagger stories. Within a year he was immersed in the idea of investing into small cap company stocks which would turn multibaggers in a short span of time. Luck being on his side, he received Rs. 1 cr in a family settlement and he went with his fascination for the rising star stocks. Going by his market analysis and 'gut feel', he invested most of the money in single small cap stock. This stock within a span of 3-4 years went up by 15 times.
By 2016, his wealth had surmounted to Rs 15 crs in a relatively short span of time making him a millionaire. Gradually he spent most of his time focussed on Stock markets with more and more funds diverted to finding the next multibagger with stellar returns. However, most of his holdings now were in stocks that were small companies with high debt levels, dishonest promoters, poor corporate governance and reporting. These were momentum run stocks.
Until 2018 his financial health was better than ever with a 100% stock portfolio of small cap companies amounting to about Rs. 16 crs. Soon the downturn started and his stocks began to plummet like a falling knife. By the end of 2018 the portfolio moved to less than Rs.2 crs and it is now at Rs. 1 cr.
Similar journey we all have heard of or experienced at some point in life. Yet the excitement to pick the rising stars makes us go back to the same volatile journey where we want to be the part of the next HDFC Bank, the next Maruti Suzuki, the next Hindustan Unilever and so on.
Performance Comparison Metrics:

*As of 28 July, 2019, source: valueresearchonline
If you notice over a 10 year period, the returns of BSE Small Cap Index have been 9.29% p.a. whereas BSE 100 Index has given a return of 10.87% p.a. Even over a 5 year period, the BSE Small cap – 6.33% p.a. falls short against BSE 100's 9.17% annual return.
Now let's look at the difference between the Category Averages over 10 years - the Small Cap funds have delivered 3.6% p.a. additional return over Large Caps. Yes, that's a good number. But let's look at what we put to risk for achieving this number and then we can decide if the additional return is worth the risk.
Some Risks: An investor with a small cap heavy portfolio is expected to undergo the following risks more profoundly than a simple large cap investor.
Extremely high volatility of returns - Indiabulls Housing Finance, Reliance HFC, Avanti Feeds
Recovery Time & Patience - Small caps work in cyclic patterns of 3-5 years. If an investor is caught at the upper end of the cycle i.e. just before the fall, the recovery could be a long drawn process.
Price Destruction for long - At times the stock riding at a very high level falls severely and recovery might not happen even for as long as a decade. For example Sanghi Industries in Sept'2007 was around Rs 80 levels and in Sept'2019 was at levels of Rs 51. Better way to manage this situation is through an experienced Fund Manager of a Mutual Fund.
See-saw Effect - Small cap stocks are generally characterised by high Financial Leverage and higher Beta. Means they are high on debt and volatility. So, when interest rates go up there could be a sharp rise in profitability (due to lower interest cost) and hence the stock price and vice versa. This leads to a seesaw effect for the investor.
Time involvement - Monitoring the company events and news regularly,more so from risk management perspective – Jaypee Group's legal proceedings and NCLT
MIS Reporting of Earnings, NPAs, Debt & Balance Sheet numbers - DHFL, Manpasand Beverages
Diversion of funds to alternate areas - Jaypee Infra, Amrapali
Credit Defaults, Deratings - Sintex Group, Radius Developers (Mumbai), DHFL
Poor Financial Management with Higher level of Debts - Bhushan Steels, Amtek Auto
Impact Costs - Liquidity for bulk deals or high volumes in small cap stocks is low and at the time of sale, the fall in price can be huge leading to difficulty in selling.
Titanic Effect: In 2019 there are many shares which have gone to less than 10% of their 2017 highs. A typical phenomenon is where the investors see such low levels and end up exiting the shares at poor prices booking heavy losses. While their rational self knows that the markets will eventually recover in the long run (3-7 years) yet the impatience and panic would make them act otherwise. Any amount of stock market studies or reading of articles will not impact the Investor much as in times of crisis we are programmed to react as per our DNA. It's like the life boats in movie, Titanic. The survivors of the crash who managed to board them knew very well that one fine day they will see the shore, however, out of sheer impatience and panic they would jump out of the boats never to see the shore again.
Global Investors: Today a company's performance is linked to global factors. Seeing the market capitalisation of your stocks in context to Global companies will give a true benchmark if they really are large caps or mid-caps in a global context. Therefore, the stocks that you consider Large and slow moving, could in a global context be small or fast moving stocks. Data below for reference: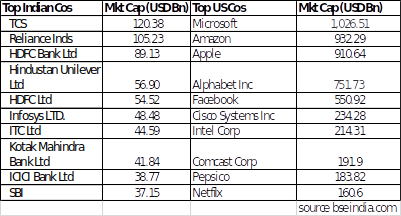 Volatility Comparison:

Source: Bloomberg
The green line represents BSE Sensex 30 & the white line represents BSE Small Cap index's graphical performance over last 3 years until 12 August, 2019.
While this asset class cannot be ignored in your portfolio and it is good to have some portion of these stocks into your portfolio yet it requires adequate financial planning, risk assessment, and patience my friend!