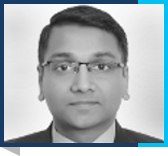 Saket Lakhotia
Saket started his career with Client Associates in 2003 and left shortly thereafter to pursue his higher studies. He re-joined Client Associates in 2016 and has grown the practice significantly in a short span of time. In addition to the NCR practice that he manages, he was also entrusted with heading the Kolkata Practice in 2017.
Saket has over 15 years of enriching experience across the Corporate and Investment Banking space. He has worked with the likes of Yes Bank, Grant Thornton and Standard Chartered Bank in the past. Prior to CA,he was with SCB, where he was looking after the large corporate relationships of the bank in North.
Given his diverse experience across the financial spectrum, he brings a fresh perspective and energy to the team.
He has done his MBA from IIM, Indore and is also a Chartered Accountant and Company Secretary.
He believes that trustworthiness, knowledge and client centricity are the key differentiators for creating a unique proposition.