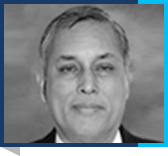 Richard B. Saldanha
Mr. Saldanha, a graduate Mechanical Engineer, served Hindustan Lever & Unilever plc with distinction for 30 years. He spent almost 10 years in Latin America. He was Technical Director of Unilever Venezuela, Vice-President – Supply Chain for Unilever Andina, (Venezuela, Colombia, Ecuador) rising to be Chairman and CEO of Unilever Peru and a Member of the Unilever Latin America Board.
He returned to India as Managing Director of Haldia Petrochemicals Ltd, a 1.5 BN $ enterprise, Mr. Saldanha brought to the Company, experience and expertise gained in Unilever Companies worldwide as well as in India. He defined his Role at Haldia as "a role that provides clear vision and strategic direction, that builds culture, business ethic, structure and processes to deliver outstanding business performance and Good Corporate Governance".
He then became a Member of the Board of The Times of India Group where he spent 5 years to help build organizational capability, culture and competitiveness. Later he joined Blackstone India as an Executive Director responsible for shaping Operational Excellence in a clutch of Portfolio Cos He retired from Blackstone recently and is Currently Chairman of Gokaldas Exports and TransMaldivian Airways . He is also on the Court of Governors at The Administrative Staff College (ASCI) Hyderabad
His 49 years of corporate experience in a gamut of functions that ranged from Manufacturing and Planning to Corporate Development and General Management have given him learning and insights which have proved to be invaluable for restructuring and reorganizing companies as well as for managing partnerships and strategic alliances in an international arena. He has been a Board Member since the mid 80's on several Boards nationally and internationally.
Mr Saldanha also has wide international experience gained, as Founder Member of the National Board for Advertising Self Regulation (Peru); Founder Member of the National Board for e-Commerce (Peru); President of the International School in Valencia, Venezuela; Member of the Dutch–Peru Chamber of Commerce; Member of the UK–Peru Chamber of Commerce.
On return to India, was Chairman, Eastern Region of the Indo-Italian Chamber of Commerce & Industry; Vice-President, Eastern India Council of the Indo-American Chamber of Commerce; He was Founder President of Bal Raksha Bharat and a Former President of Delhi Management Association. Also CoFounder of CherYsh Foundation an NGO dedicated to the Girl Child