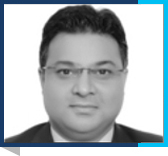 Rahul Nair, AFP
Rahul is part of the core team at CA's Delhi NCR practice. Prior to joining Team CA in 2002, he worked with Max New York Life Insurance Company.
Rahul has 15 +years of experience behind him in the areas of Insurance and Private Banking.
Over the years, through his varied experiences with Team CA, Rahul has evolved into a seasoned Private Banker. His team manages a credible practice amongst some of the most respected business families and successful professionals in Delhi.