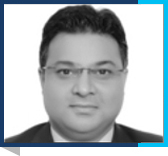 Rahul Nair
Rahul has been a part of Client Associates from the very first year of its inception in 2002. Over the years, his expertise and integrity have helped him become a trusted advisor and private banker of great repute. Today, he and his team manage the private wealth of some of the wealthiest families in Delhi.
Rahul's has over 15 years of work experience in the areas of Private Banking and Insurance. He started his career in the Year 2000 with MNYL where he worked for 2 years before joining Client Associates in 2002 as a private banker.
Despite his success, Rahul remains humble and hardworking and always puts the team and organization first.
Rahul has a B.Com (Hons) degree from the University of Delhi and is an alumnus of the Fore School of Management. He is a qualified Associate Financial Planner - Investment Planning. He believes that expertise tempered with humility, especially in a people oriented business, builds client and partner relationships that endure and are mutually beneficial.