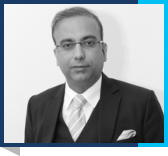 Himanshu Kohli
Himanshu is the co-founder of Client Associates. He has over 2 decades of experience in the areas of Investment Banking & Private Banking. Prior to setting up CA he worked with Deutsche Bank Private Banking, DSP Merrill Lynch and London Forfaiting Group.
Himanshu has the distinction of pioneering the concept of Family Office in India. Over the years, he has built one of the finest teams of private bankers who work with some of the most distinguished families of India. He has built expertise in providing complex wealth management solutions to address the needs of Family Business Owners & Entrepreneurs in India. He authors the monthly chronicle of Client Associates – CA Monthly – that has a large following in the industry. He also pioneered the concept of Portfolio Reallocation, a Risk Management technique, in the Indian Market.
Himanshu received the Outstanding Young Private Banker 2010 Award as part of the Private Banker International's Global Wealth Awards by PBI-VRL. He was recognized as The Most Prominent Asian Leader by Citywealth, UK in 2009.
Himanshu has been invited several times to contribute to columns and discussions on the subject of Financial Planning and Wealth Management by both the print & electronic media. Besides, he is frequently quoted by major national news media because of his expertise in this domain. He is a member of Rotary Club of Delhi South-end as well as CEO Clubs India.
Himanshu is passionate about sports and actively pursues cricket & golf. He is closely associated with various CSR initiatives for Client Associates. He is on the Board of Royal Alliance India. Besides this, he is also on the Governing Board of Vidya School, promoted by Vidya Comfort Academy for underprivileged children. His wife, Parul, shares his interest in philanthropy and works for Pragati, a voluntary organization for underprivileged children.
Himanshu is an alumnus of Shri Ram College of Commerce (SRCC) from where he did his B.Com (Hons). He received his Master's degree in Finance & Control (MFC) from the University of Delhi. In 2008 he was honored with the Distinguished Alumnus Award from the Department of Financial Studies, New Delhi.