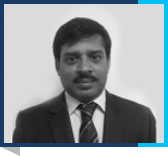 Chatradhar Paritala
A seasoned private banker with over 16 years of experience, Chatradhar joined Client Associates in 2009 to head its Hyderabad Practice. As a strategic thinker, he is a core member of the CA leadership team.
Prior to joining Client Associates, Chatradhar has worked with HSBC Bank setting up the Private banking division in Hyderabad region and had run it successfully for 3 years (2006 - 2009). He started his career with an equity broking firm, Navia Markets, in Chennai in the year 2000.
Chatradhar then worked with JM Morgan Stanley in the retail PCG division from 2002 to 2005 in the secondary equity markets before moving to Standard Chartered Bank retail banking division as an Investment advisor from 2005 March to Mid-2006.