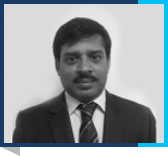 Chatradhar Paritala
Chatradhar joined Client Associates almost a decade ago to lead their Hyderabad Practice. He is a consummate private banker with over 16 years of relevant experience. A strategic thinker and a complete team player, he is an active member of the Client Associate Leadership team.
Prior to joining Client Associates, Chatradhar helped set up the Private Banking division in Hyderabad for HSBC Bank and ran it successfully for three years. He has also worked with JM Morgan Stanley, Standard Chartered Bank and Navia Markets.
He is a Graduate in Business Management from P.B. Siddhartha College of Arts& Science, Vijayawada. He has obtained a specialization in Portfolio Management & Securities Analysis from IIM, Calcutta.
He believes that identifying with the client's social, cultural and familial needs is necessary to give him the best family office experience and ensure that the professional advice he receives is holistic and superior.