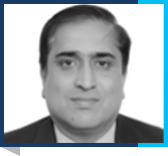 Abhimanyu Nair
Abhimanyu has been with Client Associates since 2009. He is a seasoned private banker, managing the private wealth of some of the most distinguished business families, senior corporate heads and self-employed professionals in NCR.
He began his professional journey in the year 1993 and in his career of more than two decades; he has worked in the areas of Banking, Financial Services and Private Wealth.
Prior to joining Client Associates, he worked with ABN AMRO Bank for nine years where he became a Certified Leader under their program 'Managing for Growth.'
He has also worked with RPG ITOCHU Finance Limited, ORIX Auto Finance Limited and Transcontinental Leasing and Financial Services Limited.
Abhimanyu completed his B.A. (Hons) in Political Science from the Delhi University.
He believes that being proactive in identifying and addressing clients' financial needs are the key to earning the confidence of your clients and becoming their most trusted advisor.