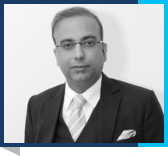 Himanshu Kohli, AFP
Himanshu is the co-founder of Client Associates. He has over two decades of experience behind him in the areas of Investment Banking & Private Banking. Prior to setting up CA he worked with Deutsche Bank Private Banking, DSP Merrill Lynch and London Forfaiting Group.
Himanshu was announced the 'Outstanding Young Private Banker 2010'by the Private Banker International's Global Wealth Awards" by PBI-VRL. He also received the recognition of "Most Prominent Asian Leader" by Citywealth, UK, in 2009.
Himanshu has been invited several times to contribute to columns and be part of discussions in the domain of Financial Planning and Wealth Management by both the print & electronic media. Besides, he is seen as an expert and gets frequently quoted by major national news media.